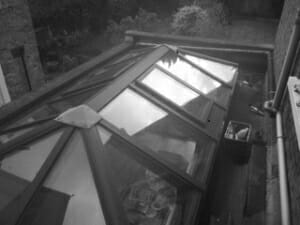 Today Spick & Span went down to Fulham SW7 to inspect a roof lantern and glass partitions on behalf of client who is keen in getting her roof lantern and glass panels cleaned professionally.
Internal glass partitions are becoming increasingly more and more common among homeowners bringing rays of light into dark covens of the home. Many contemporary and luxurious properties in London's swanky neighbourhoods have glazed light wells and panels such as those that cover excavated basements or glass corridors that bring natural light into the hallway, Glazed roof panel and roof lights are also on the increase.
Many window cleaners neglect to offer these services and many domestic staff are completely ill equipped to cope with them during their cleaning duties.
These glass areas within contemporary and refurbished properties situated in London can become a nuisance to look at for homeowners when they are contaminated with grime and dust and the odd spiders web.
Domestic staff at best dust these areas and often smear them with old fashioned window cleaning remedies.
Spick & Span have years of internal window cleaning experience and have become adept at using modern window cleaning techniques and use non-abrasive window cleaning equipment that does not cause damage to glass partitions or internal glass sheets. Spick & Span supplement home cleaning services and guarantee that all internal glass that is cleaned, is left completely transparent and smear free. Spick & Span also use dust sheets whilst carrying out internal window cleaning and glass partition cleaning services.
Contaminants such as dust and grease are easily removed by our professional window cleaners and glass partitions that are high up, such as on mezzanine floors can be reached by telescopic poles. Whether your internal glass partition is located on a mezzanine in a hallway or by stairs or landings Spick & Span can get them cleaned bringing natural light back into the parts of the home that you want the light to be in.
Spick & Span are more than happy to clean windows on the outside of a property, but regular cleaning windows on the inside only. Spick & Span pride themselves on having a strong reputation of trust and are fully insured for the clients peace of mind. Spick & Span take meticulous care whilst cleaning inside a property and take all the necessary precautions so as to work in safe and responsible way.