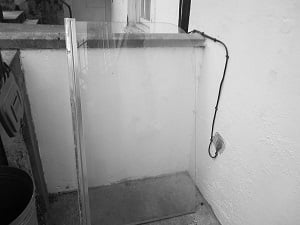 Today Spick and Span window cleaning cleaned the windows of a 6 bedroom property in Denmark Hill. All of the glass within the house was cleaned  internally and externally, this job took one window cleaner a day and a half to complete.
Work began on the first floor of the home, which housed two offices, the leaded windows of one of the offices was cleaned very delicately inside using a damp micro-fibre rag, the second office on the floor, which had a large 6 pane sash window with hinged  secondary glass windows attached, was cleaned after unscrewing the secondary glazing, this was cleaned using a hand application mop and squeegee, the secondary glazing was also cleaned on both sides this way. In bedroom number one, on the first floor ,were two sash windows with secondary sliding glass, each one was maneuvered to allow the window underneath to be cleaned, the bathroom and toilet had opaque glass and so was cleaned very simply using a damp cloth. The second bedroom on the  first floor had two sash windows with sliding secondary glass panels, which were cleaned the same as the windows in the first bedroom.
Moving up to the second floor, there were three bedrooms, one with a small six paned bay window, which had secondary glazing ,this was cleaned internally and externally by leaning out of the window, the second room had  a  small sized sash window which was cleaned much the same , and the third room had a large velux window was cleaned by pulling it's catch and reversing the window so that both sides could be cleaned effectively.
At the entrance way of the ground floor there was a  stained glass door surround, in the porch area and a fanlight above the front door which was cleaned. In the front room was a large six paned bay sash window  with secondary glazing ,also a set of two paned sash windows with removable secondary glass attached. All of the secondary glazing within this room was detached with great care and the glass panels were cleaned on both sides and the sash windows were cleaned internally, before the secondary glazing was replaced. The opaque glass of the door leading from the back garden to the living room was  cleaned with a cloth. The kitchen had four windows of various descriptions, which were  cleaned. In the lounge was floor to ceiling glass and  a set of french doors and Georgian style glass conservatory which was washed internally with the use of a ladder.The perspex roof of the conservatory was cleaned using  a  a special chemical and hose pipe . After all of the glass had been washed internally the front of the ground floor and first floor were cleaned externally with purified water and a water-fed pole, this method was also used at the side and rear of the property,with the exception of the conservatory, which  was cleaned using more  traditional methods of window cleaning.