Blog

One of the keys to having a clean home is to educate each individual within the home of the need to play their part. This includes young children. Teach your children the value of playing their part in  maintaining a clean home by making their beds, and helping in other household tasks, according to their age. You will be surprised by how much young children enjoy helping in cleaning the home, and this also has health benefits for them.
A top tip in cleaning you child's finger print marks from window is to use a slightly damp micro-fibre cloth. Rub the mark from side to side applying pressure as do so. Use a dry part of the micro-fibre cloth to remove any remaining smears. The glass will now be completely transparent and the finger prints should've disappeared.  Window Cleaning Tips from the Pros.
 Be a shrewd consumer
When purchasing items, have in mind the cleaning time  that will be required for each item.While brass or other metallic  items seem attractive as home furnishings, remember that they are dust magnets, and over a course of years they require hours of dusting. So be careful not to be lured by the beauty of an objects appearance, try to think of the time it would take to clean, and weigh up whether you are prepared  for such an investment.When it comes to  the décor of your home  think carefully about  the  material you select to cover your walls. For instance  using semigloss to  paint walls can be a good idea, particulary if you have young children  because this can be washed very easily and still looks nice.You can rapidly reduce the investment of time in cleaning floors by remembering that smooth linoleum or wooden floors are easier to clean than a carpet. But beware of floors that require constant waxing as this can consume time.Choose the colours  of your furnishings wisely, and remember: dark upholstery shows up the dust,and  light colours are easily soiled, so look for  in-between colours, and check the fabrics  washability, try to  get something that will be easy to clean,and  will hold up to normal wear for longer.
Minimize clutter
Analyze your home to see what you could eliminate and remove items that are infrequently used. You may have to be tough with yourself on this one. If this is difficult for you to do, apply the six month test; place the infrequently used item in a box for six months and if within those six months you do not use the item  you can rest assured that it  isn't needed. Get rid of it at once!If your house is large, close off a section, perhaps covering the furniture with old sheets and open it only when you have company or when it is otherwise needed. This will save you much valuable time.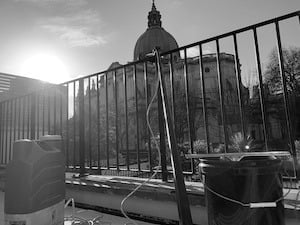 Today Spick & Span window cleaners were called out to do a specialised window cleaning job for the owner of a Grade II listed property located in the heart of Brompton Square in London, SW3.
Brompton Square, which has many historic buildings located within it, is a garden square in the Brompton District of the Royal Borough of Kensington and Chelsea. Spick & Span window cleaners regularly carry out window cleaning work in the surrounding areas of this part of London.
The windows of this is six bed, terraced home needed a thorough going over by the team of Central London window cleaners.
The  property had undergone renovation, that is to say, as much as is permissible for a grade II listed building. Glass walls and balustrades had been installed within, to maximise internal light. Large Double extension Bi-folding doors were installed at the rear elevation to capture sunlight at the back.
Carpenter had worked tirelessly within the building, however as a result had also created large amounts of dust and wood deposits. This dust had adhered to glass panelling and therefore obscured natural light from travelling through the property.
Building work carried out on the outside of the property meant that the  external side of the windows had become soiled.
Dirt, dust and debris that accumulates on glass can be difficult for house mangers and cleaning staff to deal with, especially when tall internal windows are involved. Also large terrace buildings this size, 5 storeys, can be difficult to reach with basic tools.
The property manager who booked us for this job clearly had a large task on her hands. To get the property in order,'all spick and span' ,  in time  for the arrival of the family due to return in a day or two. This stress clearly showed, however we were able to remove much of this anxiety by providing the service.
External windows were thoroughly, but carefully scrubbed using the latest and safest window cleaning methods.
Internal windows were cleaned without creating any drips or damage to furnishings.
So pleased ,was the house manager, with our professional approach to the work, and the sparkling results of window cleaning that She has booked us to come back again.This we will do when the family that own the home are next on vacation.