Methods Used
1. Water fed pole.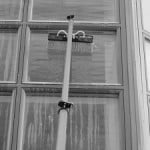 New health-and-safety legislation stresses the importance of finding safe ways of working at height. As a result responsible window cleaners have had to find safer alternatives. There are a variety of ways that windows can be reached without compromising safety, for one, windows may be able to be cleaned safely from inside the home if the windows open, or as a very safe alternative there is the reach and wash system.
Spick & Span window cleaners employ the reach and wash system of cleaning and use this with the majority of domestic clients, but also use traditional methods where called for. The reach and wash system is a method of cleaning that involves pumping purified water through an extension pole that has brushes on the end.(See video on home page.)
2. Traditional ladder and squeegee method.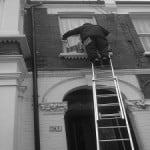 When using traditional methods of window cleaning, Spick & Span wash windows using the "S" motion.  Starting from the top of the window and then using horizontal strokes across the window with the mop and then afterwards using the squeege to remove the water. While doing this they place the applicator mop against the glass and underneath the squeegee to soak up the drips moving the squeegee and applicator as one unit across the window. This is useful when cleaning inside windows , as it prevents your interior from getting wet. The chemicals that are used to clean windows when employing the traditional methods of window cleaning are specialized, and are suited for London, which is a hard water area, and leave windows with a high shine finish.
Respect for property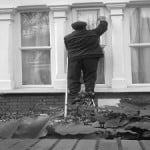 Spick & Span window cleaning make every effort to respect your property, so before even you ask, we will remove our shoes, or put on coverings before entering your property.We are very careful not to damage your paint work with our ladder movements and  we also take care around your flower beds.