Repeat-Service Home Window Cleaning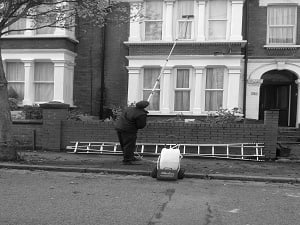 Living in a dusty and polluted city like London need not take its toll upon your windows as Spick and Span offer  a  regular window cleaning service to most areas within London.
Spick and Span  window cleaning specialize in cleaning contemporary properties and  carry out window cleaning on all  window glazing types, be they floor-to ceiling panes or glazed roof panels or even glass kitchen extensions of residential properties. Spick and Span also have methods that can sympathetically treat and clean windows of period properties.
Book efficient and reliable  residential window cleaners  who have years of  window cleaning experience. Call us now to discuss your cleaning requirements: 0745 649 5516
We offer residential  window cleaning services of a very high standard.
What you get for your money?
Spick & Span window cleaners are reputable, domestic and residential window cleaners, and not 'a man with a ladder' type company. Spick & Span window cleaners are well equipped reliable professionals that provide tailor made residential window cleaning services of the highest level . Spick & Span window cleaners can provide references and proof of their Liability insurance cover. Spick & Span window cleaners have also been CRB checked, So you can book a window cleaner with complete confidence.
Why choose Spick & Span's residential window cleaner services?
Spick & Span have years of experience as window cleaners.
We take care in and around your property.
We are honest and trustworthy.
We are CRB checked.
We are professional. Trade association membership.
We are fully insured.
We can clean windows up to 40ft. high from outside.
We carry photographic ID.
We respect your time, privacy and property.
We are meticulous.
We are friendly.
We communicate effectively.
We are reliable.
We are local.
We are flexible.
Our prices are reasonable.
Convenient payment methods.
We offer money back guarantees.
A note of caution
Sadly the reputation of  domestic window cleaners has been damaged by untrained and unscrupulous individuals who start up window cleaning just to make a quick sum of money. Often times these DIY type individuals wreak havoc on the homes that they clean. These unprofessional window cleaners use dirty cloths, dirty water and often make an absolute mess within the home. Never enter into a contract with a window cleaner until first you have checked references or testimonials.
Spick & Span window cleaners reputation
Below is a snapshot of some of the words that clients have used to describe Spick & Span's residential window cleaning services. We would be happy to provide you with references should you desire. Spick & Span are:
"Well equipped"
"Polite"
"Efficient"
"Dependable"
"Professional"
"Careful"
"Organised"
"Fastidious"
"Easy to make arrangements with"
"Punctual",
"Considerate",
"Have high standards".
Spick & Span's residential window cleaning services
Spick & Span are happy to offer window cleaning services in South East London, South West London, West London and Central London  areas.
We carry out one-off job residential window cleaning and regular residential window cleaning.
We provide a same-day and immediate response window cleaning service, when possible.
We carry out commercial window cleaning and residential window cleaning.
Spick & Span window cleaners would be delighted to provide you with a quote or to discuss your cleaning requirements.
Arrange a booking.
Spick & Span window cleaning also offer residential window cleaning in the following  areas and more:
Window cleaning in SW1,Belgravia,Hyde Park, Piccadilly Circus, Pimlico,Sloane
Window cleaning in SW3,Brompton,Chelsea,Belgravia, Pimlico
Window cleaning in SW15,Putney, East Putney,
Window cleaning in SW6,Fulham, Fulham Broadway,Parsons Green,Walham Green,Southfields,
Window cleaning in SW7,Knightsbridge,Kensington,Gloucester Road,South Kensington,
Spick & Span window cleaners  specialize in:
Kitchen extension cleaning
Loft conversion window cleaning
How it works?
Get in contact with us to arrange to  have your windows cleaned on  either a  monthly or bi-monthly basis, and you will be added to a round local to you. The advantages of having a repeat window cleaning service are that your window cleaning costs will be significantly reduced after the first clean ,and you will save time  in the future  when your windows need cleaning again  . Once you have agreed to the repeat window cleaning service with Spick & Span you can rest assured  that the windows  of your property  will continue to enhance your homes  appearance leaving you more hassle free.
How to pay?
So as not to necessitate the need for you to be home each time that the window cleaner calls, Spick & Span window cleaning prefer payment via BACS transfers. You will be sent an email with an invoice attached to it or if you prefer, a paper invoice will be left each time that the windows are cleaned.