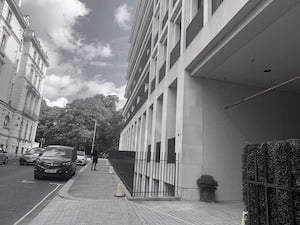 Today Spick & Span window cleaners went to clean windows at one Kensington Gardens, W8.
One Kensington Gardens is a residential development. It has 9 floors and contains 97 apartments. This exclusive building is located in between De Vere Gardens and Victoria Road, and overlooks Kensington Gardens, hence the name.
Spick & Span were involved in cleaning the windows of a ground floor apartment which comprised of 8 very large floor-to ceiling windows. Each window had to be reached by long telescopic poles. There were railings in front of the windows which made access quite difficult. However the difficulty of access was overcome by the tools that were used.
The reach and wash method that is ideal system for cleaning difficult to access windows. Purified water which is pumped through brushes is used to scrub the windows. The windows dry naturally and completely spotless.
The client was very pleased with the end result. Based on the comments that were received after the window cleaner had completed the  work we expect that we may be employed to go back to clean the windows at one Kensington Gardens again in the not too distant future. We would be delighted to attend again to clean the windows of this stylish building close to the Royal parks.