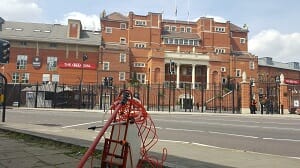 Today Spick & Span window cleaners carried out commercial window cleaning on behalf of the Ovalhouse Theatre in Oval next to London's Oval Cricket ground in Kennington Oval.
Spick & Span window cleaners carry our domestic and commercial window cleaning for clients in all parts of South London and are often employed to clean windows that are very high up and difficult to reach, such as office buildings, galleries, warehouses and large glass fronted builings like this one.
The windows of the Theatre had been bad neglected and were terribly dirty and grimey much to the callers dispair. The reason the windows were so dirty was because the building is situated next to a very busy road, which is main artery into central London and also becuase they had not been cleaned for many years.
when Spick & Span were contacted to do the job the owners were aware that the job was difficult, however Spick & Span were ready for the challenge.
Spick & Span window cleaners are able to clean large commercial properties with ease and use the latest window cleaning technology, such as  large carbon fibre telescopic window cleaning poles that are ideal in reaching high windows.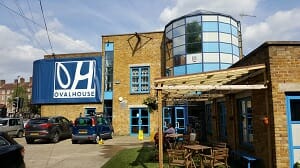 Spick & Span took great care to to work safely at this site and used high visibility signs near to aall work areas, as the buiding was still in use at the time of the window cleaning, and was still open to the public.
To reach the high window we used a 35ft pole which cleaned the top window panes using a brush and side to side motion all the dust and dirt was aggrevated and then rinsed down. This process was repeated on all the building glass frontage. The road facing windows were washed using a two step process first they were rinsed with water and then mopped and squeegeed dry.
The office windows were cleaned using the s-motion, traditional window cleaning technique. There were also automatic doors that were cleaned and glass walls that needed washing.
This commercial building building was given a very thorough clean and looked much better for it. The owner were very appreciative and described the transformation as; "Amazing!"
In all the window cleaning took just over two hours to complete from start to finish.