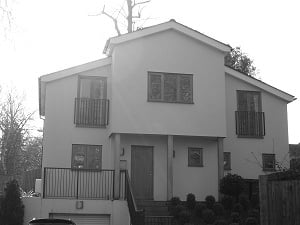 With the spring now beckoning and the sun starting to again make it's appearance, many homeowners around the capital are now seizing the opportunity of improving the appearance of their homes both internally and externally , by carrying out annual spring cleaning.
But although many of the cleaning jobs around the home can be done by yourself as an amateur ,or by your house-keeper, window cleaning still is one of those important spring cleaning jobs that requires the skill, and expertise of a qualified window cleaner,as well as specialized equipment. So as to get very good quality results,particularly  for those high up and hard to reach windows a professional window cleaner is unavoidable.
As the sun shines through your window panes, built up dirt and grime which effects the aspect of your property  become more noticeable  meaning that even if  the inside of the home is cleaned to a high standard  your spring cleaning will not be fully effective or complete if you leave your windows uncleaned .
Dirt that is on the outsides of your windows will continue to be the bain of your life and will taunt you if you leave them unattended.
Spick and Span window cleaners based near to East Dulwich and Herne Hill were called out today to help with a spring cleaning project of a homeowner who has a Large contemporary property set in a leafy road in Herne Hill.
To maximize the amount of sunlight that enters into this dwelling Spick and Span employed the reach and wash method of glass cleaning for the high-up windows and used traditional methods for the low-down glass.
The approximate number of windows cleaned at this property using these methods were thirty ,although the floor-to ceiling- glass at  the rear of the property were cleaned both internally and externally.
Like so many properties at this time of the year the windows had become very dusty, grimy and there were snail trails and cob-webs that restricted natural light from entering. Internally the windows on the lower levels had hand marks and smears of a young child that also needing a thorough wiping.
At the conclusion of the work The homeowner made an exclamation that made it quite obvious to all that she had appreciated the assistance rendered and was thoroughly impressed with both the sparking results and high degree of professionalism.