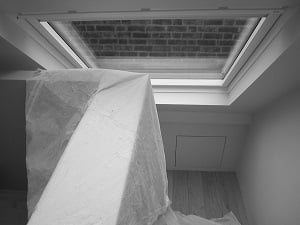 Today Spick & Span window cleaners went down to Dulwich SE21 to clean the windows of a five bedroom house which had a large kitchen extension and glass roof as well as Velux windows in the kitchen extension roof. The  five bedroom property was cleaned on the inside by Spick & Span window cleaners without any water spillages or  drips falling on to carpets or furniture. Externally the windows of the property were cleaned using water-fed pole method after the water had been put through a five stage reverse osmosis process to remove the dissolved solids, which cause grey spots on windows when dry .The windows that were cleaned using this special purified water were left sparkling after cleaning. This was true even of the windows that had been stained with birds mess previously.
Another window cleaning company  that had been used to clean the windows of this period property in Dulwich in the past  had  spilt dirty water on to the cream carpets when cleaning the windows on the inside of the house much to the dismay of the owners, they also and had been unsuccessful in cleaning  the kitchen extension roof which is a main feature of the home.
Spick & Span window cleaners cleaned the internal windows of this property taking extra special care. Overshoe covers were worn at all times by operatives whilst working in the property to prevent scuffs on the flooring and dust covers were placed under all ladders and buckets to prevent any water that was spilled, from soaking into carpets. The glazed Kitchen extension roof windows were also cleaned without making a mess on the kitchen floor.
When Spick & Span window cleaners clean internal windows of this kind, Spick & Span use the latest window cleaning technology. The latest addition to Spick & Span's internal window cleaning tools is a window cleaning hand tool that has a built in vacuum which sucks up all water on the glass preventing water from dripping onto areas below. This method of cleaning leaves no streaks on windows and is particularly adept at cleaning Velux windows, which was proved when cleaning this property.
After  the window cleaning was work was completed the windows that were once blackened with grease and dirt, allowed daylight to enter bringing the homeowner back in touch with the outside world.The homeowner was filled with praise for the work that Spick & Span had accomplished with the window cleaning of this house and kitchen extension and requested Spick & Span to provide window cleaning on a regular contract.