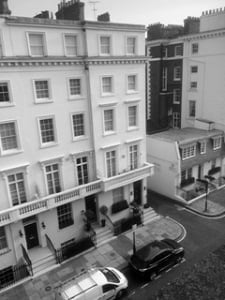 Today Spick & Span window cleaners were hired to go down to Belgravia SW1W to do window cleaning on a grade II listed 5 bedroom house in Eaton Terrace, Belgravia, for an expectant mother who was soon to give birth. Arrangements were made to coordinate the Belgravia window cleaning through the owners maid, who was the point of contact on the day.
The windows of this very attractive 5 storey Belgravia grade II listed house in Eaton Terrace, Belgravia, had all the windows cleaning done on the outside only. The windows of this  building were very high up making it necessary to use window cleaning extension poles rather than a window cleaners ladder to reach them. The type of windows that were window cleaned in this Eaton Terrace, Belgravia, property were "Georgian-style" wooden framed sash windows. The Belgravia window cleaner cleaned windows that were of different shapes and sizes, some having six glass panels and others having twelve glass panels. The fanlights above the front door was also cleaned. The Belgravia windows were very dirty, some had the appearance of  not being window cleaned for some  time. Most of the windows were window cleaned from the ground using long extension window cleaner poles, but other windows were cleaned from the balconies and rooftops of the Belgravia property.
The window cleaner who was assigned this window cleaning task needed to provide a very professional window cleaner service in Belgravia. Thorough window cleaning of this Belgravia property was achieved by using professional window cleaning cloths, mops,chemicals and rinsing equipment. The window cleaner who cleaned this Belgravia home also made sure that he removed his shoes when walking through this property to ensure that he did not make a mess within the home. This Belgravia window cleaner also went over any marks that were left on the windows with a micro-fibre cloth so as to remove water stains.
Whilst the Belgravia window cleaner cleaned the external windows of the property the maid cleaned the windows on the inside using a domestic window cleaning chemical.The Belgravia cleaning maid smiled as she saw the difference that the window cleaning in Belgravia had made to the windows on the outside of the property.
The window cleaning in Belgravia  in all  took around 2 hours to complete from start to finish.