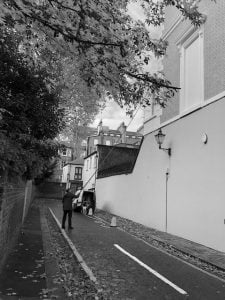 Today Spick & Span window cleaners went to South Kensington, SW7 to clean the windows of a conservatory of a first floor flat in South Kensingon on behalf of a client who had recently had decorators in and required professional window cleaners to clean up the mess that had been left behind.
The conservatory that was to be cleaned was difficult to clean because there was limited access from below, also  the windows had not been cleaned for a number of years which showed.
Spick & Span who use professional methods of window cleaning used purified water to clean the conservatory and used a long telescopic pole and brush to scrub the windows and frames of the dirty conservatory windows.
The client was impressed with the modern equipment and style of cleaning that was used to clean his conservatory windows and commented that previous window cleaners had had to lean from the windows and work from the ledges which he recognised was unsafe. He also said that previous window cleaners had not been able to reach all the windows due tot the equipment they had used.
Spick & Span cleaned both the inside and outside of the conservatory for this client.
The inside windows comprised of large french doors, patio doors and sash windows above the kitchen units. There were also intenal glass panels that were washed. Paint was scraped from windows and traditional, squeegee and mop window cleaning was used to clean the insides. Care was taken to prevent water spillages and the properties windows looked pristine afterwards.
Spick & Span clean many properties in the South Kensington and Chlesea area, and clean conservatories, solariums and modern glass interiors on a regular basis.