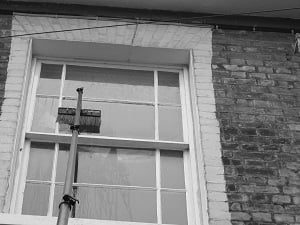 The windows of the 4 bedroom terraced house that were cleaned in Brixton today had not been cleaned for thirteen years. The windows had hard baked mud covering the top two thirds of the pane, which had a very dismal effect on the outward appearance of the property, but also effected the daylight  from reaching within.
The double fronted period house had very high ceilings meaning that for window cleaning the first floor was quite high and dangerous to access from a ladder.
A safer alternative of window cleaning was used, as the client required internal and external cleaning to bring the property back to standard.
Spick and Span chose to begin  their cleaning on the top floor on the  inside of the property, and out of the way of the homeowner who was working at home in an office downstairs, this was done so as cause minimum disturbance.
After cleaning a bay window on the inside, the sash windows were opened and then cleaned on the outside after flower pots were carefully removed from the ledges.
Furniture was covered over to prevent water drips and other debris from causing a mess in the room.
Many of the windows after being lubricated with glass cleaner were then scraped to remove years of dirt that had built up on the glass.
Black streaks of loosened dirt  rolled down the panes of glass and collected on the cross beam of the sash these were wiped clean with a clean cloth as were the window frames.
There was one particular window in the hallway on the top floor of the house that was the main source of light that the homeowner especially wanted clean. It was reached using a two section ladder, and the paint marks on it were removed.
After and hour or so had passed the client travelled upstairs and became quite emotional over the transformation that window cleaning was already starting to bring to her home.
In the bathroom were transparent glass tiles that had splashes of cement on the outside these were scraped off and the glass was polished with a micro-fibre cloth.
Next it was time to move downstairs to clean the windows in the front room, a bay window at the front, and french door leading through to a courtyard at the rear, these were cleaned as were windows in a kitchen and office.
As we walked through the home afterwards it became noticeable, the difference in the feel that the property now had, the daylight now shone in, made even more noticeable by the beautiful rays of  sunshine that lit up the day.