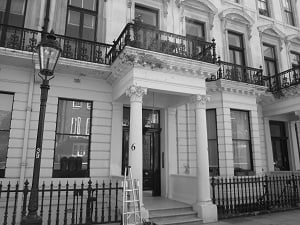 Today Spick and Span window cleaners went to Knightsbridge and cleaned a large one bedroom flat in a mansion house in SW7, set over ground floor and basement levels. The windows were floor to ceiling type windows, and so required the use of long ladders.The client also required the cleaning of an adjacent guest flat, at basement level.Both properties were cleaned on the inside and out.Because of the clients demanding schedule, arrangements were made through the PA for Spick and Span to come and clean the windows  at a convenient time .
Spick and Span's window cleaner was welcomed by the house keeper, after showing photo ID, and work began on the outside of the lounge area.The ladder was carefully placed on the decking area outside, after it had been negotiated carefully through the home.The windows were mainly dusty, due to the London Poplar tree seeds that had made contact with the glass , as the property is set next to lovely gardens .This dust was effectively removed, as was the the grime and other dirt, using a high performing window cleaning solution mixed with some water, a micro-fibre window cleaning pad, and window cleaning squeegee.Careful attention was given to paint spots and other blemishes on the windows, and these were successfully removed with a window cleaners scraper. After the casement style windows and french door was cleaned , they were polished using a lint free linen cloth and  residual marks in the corners of the frames were lifted out.
The  basement windows were large sized 2m by 2m panes, these were set around  a bathroom and linking into the bedroom was a french door, which were all  washed similar to the windows on the ground floor.Within the bathroom were six glass mirrors, which were very difficult for the house-keeper to clean, because of their height. Spick and Span window cleaners were able to reach and clean these without the use of a ladder, but with an extension pole.
The guest flat had sash windows with secondary glazing, and another french door.Before these were cleaned the window cleaner made sure to change his water and add some more cleaning chemical.After a brief inspection of the work, the tools were gathered, and the job came to it's conclusion.
The house-keeper after mentioning how great a task it was to clean the windows of the flat set there in knightsbridge, hoped that we would come again to clean the windows in the future.