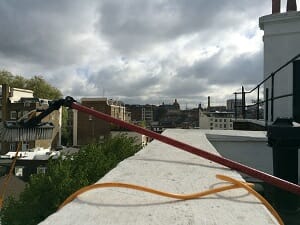 Conservatory cleaning in Knightsbridge today was more challenging than usual, because the conservatory that was cleaned by the Knightsbridge window cleaner was located on the 4th floor of a roof terrace. To make up for the difficulty of this cleaning work however were the spectacular views of many iconic London buildings that were noticed in the vicinity. These stunning city views went some way to compensating the window cleaner cleaning this conservatory. As conservatory cleaning is more physically demanding task than most other window cleaning tasks.
Spick & Span window cleaners arrived on site in Knightsbridge at 8:30am, on the first impression the property was beautiful, situated in a Brompton Square apartment in Knightsbridge, London, SW3. This very attractive Georgian period, 4th floor apartment, is just a short walk from Harrods, and located just off Brompton Road. After completing a full risk assessment, the Knightsbridge conservatory cleaner selected a host window cleaning of tools that would get the conservatory and windows looking like -new again. The tools that were best suited to cleaning this conservatory were: a telescopic pole, abrasive pads, cleaning detergent, brushes, and a portable trolley with a water pump, and of course water.
The conservatory was in desperate need of a Knightsbridge window cleaner, as according to some, the conservatory had not been cleaned for at least 15 years. This estimate is quite likely correct. There were green algae and sun baked dirt and dust which were very stubborn to remove. There were also dust deposits that had blown in from nearby basement excavation work.
The homeowner was very keen to get this conservatory cleaned thoroughly as according to her own admission' it had been somewhat neglected over years.' This 'Glass veranda' as it was described is used as a dining area, and place for guests who visit, to enjoy the Brompton road and Knightsbridge skyscape.
It required a lot of elbow grease on the part of the Knightsbridge window cleaner to scrub away this dirt, but the results were very satisfying to see afterwards.
After thoroughly washing the roof panes and rinsing with purified water all the side glass panels of the conservatory were washed.
In all this Knightsbridge window cleaner and conservatory call-out took around 2.5 hours to completed from start to finish.
Needless to say that the propertys owner was very satisfied with how clean the conservatory looked after, which also was very rewarding to hear.