Location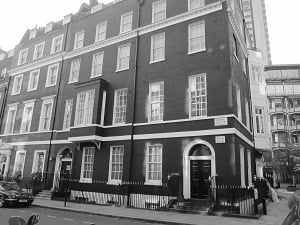 Today Spick & Span window cleaners went down to Mayfair W1  to clean the windows of a Luxury 1st floor flat, set within a beautiful Georgian period building in Mayfair W1. The first floor flat was located within yards of Park Lane and London's Hyde Park, W1. This apartment that Spick & Span window cleaners were called out to clean, in Curzon square, Mayfair, was at the time being completely redecorated in preparation for it's  owners to occupy, and needed to have the window cleaned to complete the work.
[gmap]1 Curzon Square, Mayfair, London, W1[/gmap]
Eye for Detail
The owner of this luxury flat in Mayfair needed specialist window cleaning as the windows were extremely dirty and quite high up, and difficult to reach in places, also the house fronted a fairly busy street which had high levels of pedestrian traffic at certain times of the day. Spick & Span window cleaners took great care in cleaning the windows around the property and whilst cleaning used high visibility cleaning signs in accord with health and safety regulations.
Rising To the Challenges
Each window cleaning job  whether it be in Mayfair W1 or another area of London presents its own unique and individual challenges to a window cleaner, and window cleaning the windows of this property in Mayfair proved to be no exception, however with the many years of window cleaning experience that Spick & Span have gained; challenges can usually be met successfully.
The main difficulty of this window cleaner job in Mayfair W1 was that the windows had not been cleaned for a number of years and so were extremely dirty , also some of the windows were not easy to reach.
Another thing that made this job quite labour intensive was that the 10 sash windows that were all cleaned on the outside were multi-pane and therefore had to all be thoroughly scrubbed and then rinsed. Spick & Span window cleaners used the reach pole method of window cleaning this property in Mayfair
Benefits
The end results of this window cleaning in Mayfair W1 were very pleasing, because the windows were noticeably cleaner. Making the property look even more attractive and appealing