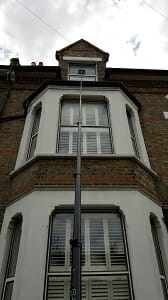 Today Spick & Span window cleaners went down to Perry Hill, SE6, to clean the windows of a Victorian property on behalf of a client based in this part of London.
This large 3 storey semi detached period property was located on a very busy street in Perry Hill and had many windows that were difficult to access for the average Perry Hill window cleaners. The windows were all very grimy and dusty, to the point that may of them were no longer transparent. This was the case not only with the fron windows, but also those at the rear of the property. All windows were in very bad overall condition.
Spick & Span window cleaners who are based just 15 minutes drive away from Perry Hill were at this property quickly after the client booked, and carried out this Perry Hill residential window cleaner service at a very competitive rate.
The windows housed in this property were mainly Upvc framed windows.
There were bay windows, sash window, and french doors that all required external window cleaning. There was also a very odd shaped window at the front that the owner was keen to get cleaned.
the type of windows at this property were very suited to the reach and wash method of window cleaning. This method of window cleaning was also neccessary because many of the windows were very high up and so would've been very dangerous for many Perry Hill window cleaners to reach using ladders, which is often the case with many local window cleaners.
After Spick and Span cleaned the front windows the difference was immediatelly apparent. Windows that had previously had been covered with dust which had obscured the sunlight now dazzled as the light shone in through the windows make the space inside seem much more airy and spacious. After finishing on the front the side and then back windows were washed using the same technique.
Approximately one 25 litre barrel of pure water was used in cleaning all the windows within this Perry Hill home. Purified water is a chemical free solution to window cleaning that is both good for the environment and provides excellent results.
All water that Spick & Span window cleaners use is pre- purified and is transported to site where it used to wash windows using the reach and wash, telescopic pole and brush system.
The homeowner was so appreciative and  impressed with the excellent window cleaning results that were obtained by Spick & Span window cleaners, that she gave the Perry Hill window cleaner, that perfomed the work  a very generous tip!