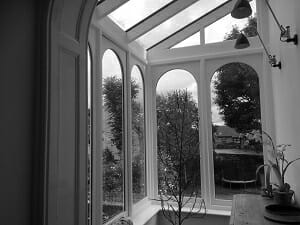 Today Spick & Span window cleaners went down to Camberwell SE5, to clean the inside and outside windows of a semi-detached, 4 storey, 4 bedroom Georgian property in leafy Camberwell Grove, which had attached to it a glass sunroom and a very large sun lounge/ garden conservatory.
Spick & Span window cleaners, who have gained extertise in cleaning solarium windows and other glass structures integrated into buildings, were able to clean this period property inside and out,  including these glass structures, in approximately 5 hours.
The Camberwell based client was keen to get all the windows of the house cleaned inside and out, but the clients main priority was that the garden conservatory and solarium windows get cleaned inside and out, this was because themain purpose of these areas is is to provide enjoyment to family so that they can enjoy the surrounding landscape and garden area.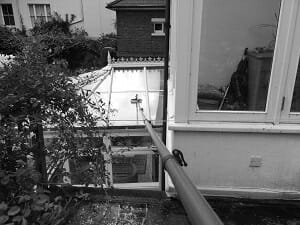 The windows of the sunroom had been neglected, perhaps because many window cleaners find them difficult to clean. The effect of this was that they had become very grubby and were covered with green algae especially was this alge noticable on the roofs which really needed to benefit from a good clean.Light was seriously lacking from this part of the houses interior and provided annoyance rather than enjoyment to the homes owners. Rather than light flooding in as is the purpose of a sunroom the rays of the sun cast shadows into the home making it appear dull and dreary within. Not only did this look  unattractive, but was the bain of the homeowner.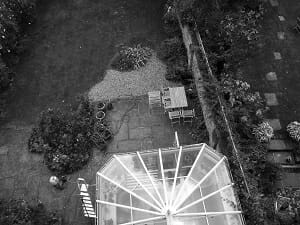 Spick and Span were able to clean the roofs of both glass structures by using safe and effective methods that involve telescopic window cleaning poles abrasive brushed and purified water which is pumped to the brush head. All external window were cleaned thhis was excluding thos in the attic which were inaccessible by this means of window cleaning, these were cleaned from within the property.
The homeowner was very impressed with quality of the finish, her response was one of astonishment, at the amount of light that now flooded into the home via the roofs of the sunrooms, this gave the property a much brighter appearance.
Spick & Span window cleaners were very happy to provide their sunroom window cleaning service to this client, and to be a part of this glass solarium restoration project.