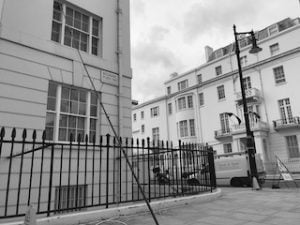 Today Spick & Span window cleaners were happy to go down to Belgravia to attend a window cleaning booking that had been made by and Estate Agent in Belgravia who required a window cleaner to come there to clean one of the many properties that they manage in the Belgravia area. Professional window cleaners were required to give some windows in Eaton Place, Belgravia, a good going over.
The windows that were to be cleaned in this Belgravia flat were on the first floor of a double fronted elevation period property. There were eight sash windows in total, and judging by the outward appearance of them they had not been cleaned for a very long while. The frames in particular were very dirty and in need of a good scrub by the window cleaner.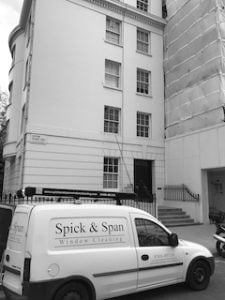 This property was in need of a makeover in preparation for new tenants who were soon occupy this luxurious apartment set near to Belgrave Square.
Because the windows faced a busy main road, they had become very dusty, and this had restricted light from reaching within the property. The outward appearance of the property was also tarnished because of this and did not make the right impression.
All windows including the frames were thoroughly washed clean, and the dirt that ran down from the panes and frames was quite noticeable as was the difference in appearance of the windows afterwards.
In total the window cleaner spends around 1 hour scrubbing the windows and afterwards rinsing them to a high shine finish.
The difficulty with this particular call-out, and no doubt the reason why some window cleaners may have found this job difficult is that the windows were located above a basement which the client did not have access to. The way Spick & Span window cleaners get around this is by using a reach and wash method of window cleaning which involves using, telescopic pole able to reach over 50ft. This pole is more than adequate to clean raised ground floor and first floor flats in fact it can reach even the fourth and fifth floors! This method of cleaning is ideally suited to cleaning windows that are difficult to access as was the case with this call-out today.
Naturally working with long poles can be dangerous especially in the windy weather that Britain has been recently experiencing, so it was essential that great care be taken and all hazards were identified and managed.