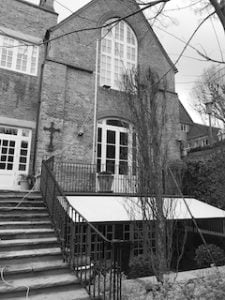 Chelsea was the destination today for a team of professional window cleaners who went to clean the windows of a Chelsea property that originally, in the 19th century, was built as a school and later served as a magistrates court. This old court house building is in the Chelsea district which borders Knightsbridge and all the external windows of this home have now been cleaned twice by our team of reliable Chelsea window cleaners working in the Chelsea area.
Although this property in Chelsea has very large sash windows at the the front and side elevations,the addition of a conservatory at the rear, glazed roof lights and a small glass pavilion at the back as well as a single storey basement extension, the original owners had much more ambitious plans for this property which included
a three-storey basement extension, however this was rejected by Kensington and Chelsea council's planning.
Spick & Span window cleaners clean the windows of this Chelsea property with the greatest of care and used professional window cleaner tools which included traditional hand window cleaning tools as well as more specialised access equipment for the taller windows.
As part of the contract all the french doors in the basement were cleaned as were the frames. The pavilion and conservatory glass panels were also cleaned.
This Job took approximately three hours from start to finish.