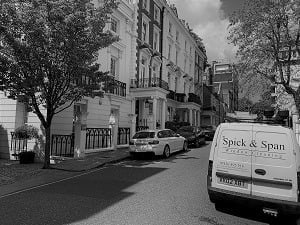 Today Spick & Span window cleaners went to Hyde Park Gate, SW7  to do an external clean. The property had 5 floors and a balcony on the 2nd floor at the front. On the back of the property there was a glass roof lantern and 2 Velux windows that required cleaning as well as 7 large sash windows. This whole house took approximately 2.5 hours to complete.
Two window cleaners  were needed. To reach the windows at the front a 60 ft. carbon fibre pole was used. At the back of property a ladder was needed to access the roof lantern.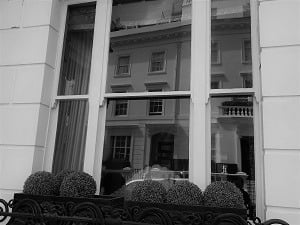 All of the windows were washed thoroughly using purified water.
All of the windows were Georgian sashes. The brushes that we used are ideal at cleaning this type of window.
The PA for the family who own this property wanted the windows cleaned before the homeowner returned from overseas. The housekeeper was there to show us the window cleaners where everything was and helped to open some of the windows.
This is one of a number of properties that we have recently cleaned in and around South Kensington.