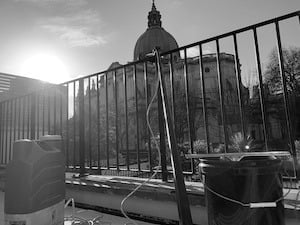 Today Spick & Span window cleaners were called out to do a specialised window cleaning job for the owner of a Grade II listed property located in the heart of Brompton Square in London, SW3.
Brompton Square, which has many historic buildings located within it, is a garden square in the Brompton District of the Royal Borough of Kensington and Chelsea. Spick & Span window cleaners regularly carry out window cleaning work in the surrounding areas of this part of London.
The windows of this is six bed, terraced home needed a thorough going over by the team of Central London window cleaners.
The  property had undergone renovation, that is to say, as much as is permissible for a grade II listed building. Glass walls and balustrades had been installed within, to maximise internal light. Large Double extension Bi-folding doors were installed at the rear elevation to capture sunlight at the back.
Carpenter had worked tirelessly within the building, however as a result had also created large amounts of dust and wood deposits. This dust had adhered to glass panelling and therefore obscured natural light from travelling through the property.
Building work carried out on the outside of the property meant that the  external side of the windows had become soiled.
Dirt, dust and debris that accumulates on glass can be difficult for house mangers and cleaning staff to deal with, especially when tall internal windows are involved. Also large terrace buildings this size, 5 storeys, can be difficult to reach with basic tools.
The property manager who booked us for this job clearly had a large task on her hands. To get the property in order,'all spick and span' ,  in time  for the arrival of the family due to return in a day or two. This stress clearly showed, however we were able to remove much of this anxiety by providing the service.
External windows were thoroughly, but carefully scrubbed using the latest and safest window cleaning methods.
Internal windows were cleaned without creating any drips or damage to furnishings.
So pleased ,was the house manager, with our professional approach to the work, and the sparkling results of window cleaning that She has booked us to come back again.This we will do when the family that own the home are next on vacation.