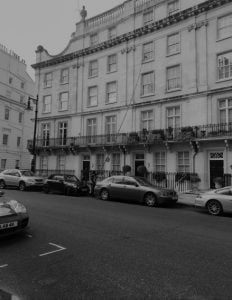 Today Spick & Span window cleaners went to  Belgravia SW1V, near Buckingham Palace, to clean the windows of a 6 storey stately home set in a historic terrace in Belgravia. This window cleaning commission was one of many that Spick & Span have carried out in the SW1 postal code area in recent months due to high demand for window cleaning in this part of town.
The client came across us after checking window cleaning reviews on the internet and had decided to enquire of Spick & Span after reading  positive reviews and testimonials. After the client made contact with us by telephone, he provided a brief description of his property, including his address and his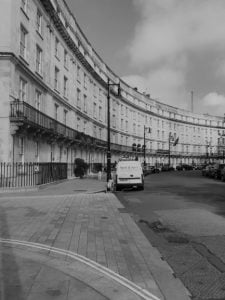 preferred dates, and after a quotation was  sent by email, and accepted, within just a  few days a site visit was made, and window cleaning commenced.
Initial reactions were that a 60ft length carbon fibre pole would be needed to access the windows at the top this very tall and beautifully proportioned Georgian building also  that great care would need to be taken around the very fragile old Georgian window casements. The façade of the building also was very ornate and needed tender treatment and care taken so as not to damage the brick-work.
Weather conditions were windy which made the job more difficult than it would've been otherwise.
No chemicals were used during the clean, only water which had been purified off- site through a five stage reverse osmosis system, which when dry leaves windows spotlessly clean.
As this property was set in a busy location just off of  Belgrave square, near Knightsbridge, care was also taken to make sure that the many pedestrians that were walking in front of the building whilst it was being cleaned were kept safe.  Spick and Span did this by ensuring that safety measures were put in place to control the environment and make it as safe as possible such wearing appropriate PPE using barrier tape and having safety cones in place.
The water-fed pole method of window cleaning was employed during this cleaning operation and proved to be very suitable in reaching the windows that were high up in this large Georgian stately home. The purified water that was used rinsed the windows clean leaving them bright and shiny and neat in appearance afterwards.
Spick & Span window cleaners work regularly in SW1 and through experience have become skilled at cleaning large stately homes and period properties. We'd be delighted to add you to our list of window cleaning clients that we work for in SW1.