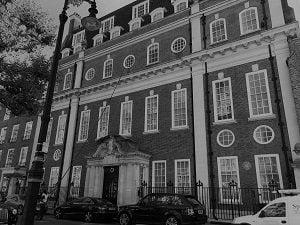 Today Spick & Span window cleaners were contracted to clean the windows of a large house, which is located between Park Lane and Berkely Square, Mayfair, in the City of Westminster.
This grade II-listed five-storey mansion was in need of professional window cleaning services on both the inside and outside of the windows. This contract was  undertaken as part of  a clean-up operation.
The windows of this imposing mansion, with a 90ft frontage and floor area of 22,788 sq ft, took 2 days to clean and the results of cleaning made a marked difference to the windows and the neatness of the properties appearance.
The window cleaning equipment that was required for the work needed to be professional, robust but at the same time versatile enough to clean the windows of this very large neo-Georgian style building as many of the windows were very big and  difficult to reach.
Part of our heritage as Mayfair and South Kensington window cleaners is to provide bespoke window cleaning services for clients who require fastidious and trustworthy window cleaning services. To date we have secured many contracts for window cleaning in W1J, SW1X, SW3 and SW7 as well as other areas of London. This property is one of the most expensive properties that we've cleaned to date and according to online sources was last listed for sale in 2007 for 46 million.
Because we've gained over 10 years experience this has informed the approach we take for window cleaning on behalf of high net worth clients.
We cooperate with House managers and security and follow neccessary protocol.
We feel very proud to know that in an industry that is crowded we've gained a reputation of providing a gold standard of cleaning which has become our hallmark.