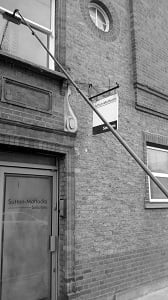 Today Spick & Span window cleaners went down to Rocks Lane, Barnes SW13, to window clean a three storey office building on behalf of a solicitors firm in Barnes SW13.
The three storey commercial building in Barnes that required a window cleaner had approximately fourteen windows The Barnes solicitors who own this building needed a window cleaner to clean the outside of the windows only.
Spick & Span window cleaners who are based just a thirty minute drive away from Barnes SW13, and offer domestic and commercial window cleaning in Barnes and the surrounding areas were more than happy to come down to clean the windows of this large commercial building. The window cleaner who cleaned this property in Barnes found that the job very tricky, due to the fact, that many of the office windows that required window cleaning, were located in very awkward places, and  had to be cleaned from on top of the roof of the shop below. Although all the windows were to be cleaned on the outside, the window cleaners equipment had to be transported inside the building to one of the roofs from where the work was to begin. While the window cleaning took place, there were solicitors and other members of staff working in the building, which meant that great care had to be taken not to create too much noise or other disturbances, great care was taken not to interrupt workers unnecessarily. After the windows of one of the offices in building were cleaned, one of the staff members smiled, being pleased with the noticeable difference the window cleaning had made, and stated that the place had been 'transformed' through the window cleaning.
The windows of the offices of this property in Barnes were particularly grimy and dirty, no doubt in part, to the fact, that there is a busy road outside the building. It also seemed likely that the windows of the building probably had not been cleaned for years, due to the sheer height of many of the windows and the overall awkwardness of the job.
Although this window cleaner job in Barnes was not the easiest to tackle Spick & Span window cleaners, due to their years of window cleaner experience were able to transform the appearance of this property in a little over an hour and a half. The practice manager who had booked the window cleaner job, was so impressed that she intimated that she would soon being in touch again for a follow up visit.