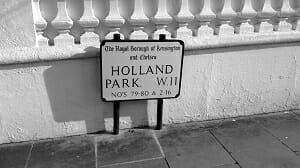 Today Spick & Span window cleaners went down to Clarendon Road, Holland Park in London W11 to clean the windows within a 5 bedroom town house , located near to Holland Park tube station, in W11. The house in Clarendon Road is located between Portland Road and Ladbroke Grove.
Spick & Span window cleaners were called out to clean the windows of this property in Holland Park by building company who had carried out extensive refurbishment of the house . The Georgian property had many large multi-paned windows, and french glass doors on a very large glass kitchen extension, it required that Spick & Span, as a specialist window cleaning company,use both traditional and modern  window cleaning methods during the cleaning process.
Each window cleaner job  has its own difficulties whether it be window cleaning in Holland Park W11 or window cleaning in other areas in and around  Kensington and Chelsea, and window cleaning the windows of this property in Holland Park also presented challenges, however with the many years of window cleaning experience that Spick & Span have gained; these challenges can always  be met successfully.
When Spick & Span arrived at this window cleaner job in Holland Park, builders were applying the last finishing touches. Spick & Span window cleaners were required to clean all the external the  from top-to-bottom so that the building company could complete their project. Spick & Span window cleaners had to perform the window cleaning  work within the time frame and parameters of the building company, who wanted a thorough and professional job.
Spick & Span window cleaners  took  great care whilst window cleaning and working in and around this prestigious property in Holland Park, which just been freshly decorated to high standard.
The main challenge for Spick & Span's  window cleaner  in Holland Park was that some of the window had iron bars covering them. Also because of the height of many of the windows, a long extension pole had to be used. The client required that the windows be cleaned at both the front and back of the property, and so equipment had to be transported very carefully through the building. At the back of the property two of the floors had large french doors with multiple panes of glass that needed window cleaning.
At the end of the job the builder on site said that he was very pleased with the results and that he would be happy to recommend that Spick & Span be used to clean the windows of other houses that they were working on in the Holland Park area.