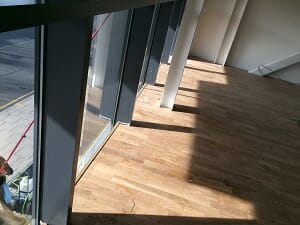 Commercial window cleaning was performed today in South London, Lewisham SE13 by Spick & Span window cleaners on behalf of new client based in Central London. The windows at the commercial property were very tall and required ultra-deep cleaning on both the interior and the exterior, including frames.
The client, that Spick & Span were contracted by, was desperate to get the windows cleaned quickly and Spick & Span window cleaners were invited to carry out a deep clean at unit as soon as possible as the unit was soon to open.
The modern and contemporary glass commercial unit had very recently come to the end of internal renovation work by the client and so was to be handed over to its new owner, hence the need for the very thorough and deep window clean.

The deep cleaning requirements for this project were that the cleaning be carried in the absence of the client and that Spick & Span window cleaners liaise with a neighbour to collect the keys.
A trusting relationship was therefore crucial. Spick & Span would be trusted to collect/return the keys and carry out the work without supervision.
The windows were extremely dirty outside because the site was based on a very busy road that joins nearby Deptford to Lewisham, where this site was located, also the site was near to the main railway station and there is a lot of construction work taking place locally.
Internally dust deposits and other debris were fastened to the glass panes and the window sills were covered with thick dust which carpenters and builders had left behind after they had completed constructing a wooden staircase and mezzanine floor.
This commercial cleaning work of the unit was done by Spick & Span window cleaners within a very short time frame at the clients request and all the windows glistened after the window cleaning was completed.
Spick & Span window cleaners have accumulated years of commercial window cleaning experience are able to wash office windows and commercial properties of all descriptions, including large glass panels such as was the case with this commercial unit.
Spick & Span window cleaners employ the latest cleaning technology in comply with health and safety requirements. Spick & Span window cleaners have expertise in cleaning commercial units and use the reach and wash window cleaner system to clean large glass panels and frames.