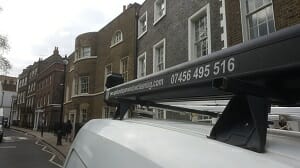 Greenwich window cleaning was required today by a client there who was anxious to have the windows of her quaint 3 storey Georgian property, just a short step from Greenwich park and  the observatory of Greenwich, cleaned by a professional window cleaning company local to  the Greenwich, Greenwich Park area.
The Greenwich client had been dissatisfied with the windows of the period property being in a murky and unclean state, but her regular window cleaner had retired a few years ago and she had not been able to find a replacement.
Given that the windows of houses in Crooms Hill, Greenwich are so high up and difficult to reach most local Greenwich window cleaners would not venture to use ladders to reach windows located at such heights, such as those contained in many Greenwich  Georgian properties.
Many who live in Greenwich feel resigned to putting up with dirty windows on the top floors and allow dirt to restrict natural light and sunshine from reaching  into the home, which effects the ambience and feel of the home.
It seems that many residents in Greenwich would like to have a regular and reliable window cleaning service with a company that they can trust, however likely few window cleaners who work in Greenwich provide window cleaning services that is up to the task of reaching the top windows of  very large properties.
Granted for traditional window cleaners within close proximity to Greenwich it would be impractical and inadvisable to take on such a task because of the risk to window cleaners and the potential damage that could be caused to the paintwork. Many residents of Greenwich are familiar with the man with a ladder type window cleaner but may not been aware of modern window cleaning tools that are completely adept and well suited to sympathetically restore Georgian sash window glass to their peak performance enabling them to get back to being translucent and making a neat and smart overall appearance.
Spick & Span window cleaners are able to reach higher heights than most window cleaners in and around Greenwich and provide bespoke window cleaning services for residents within the Royal Borough of Greenwich.
Why not call the Spick & Span window cleaning sales team to discuss whatever are your unique Greenwich window cleaning requirements?  Whether you live or work in Greenwich, Blackheath or Lee we would be happy to receive your call.