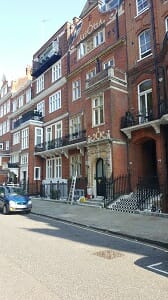 Today Spick & Span window cleaners went down to Knightsbridge in the Royal borough of Kensington and Chelsea and carried out a Knightsbridge domestic window cleaner service on behalf of a client who required inside and outside domestic window cleaning in Knightsbridge SW1X.
This red brick property which is located in Lennox Gardens, SW1X 0DF, is on the former site of the Prince's Cricket Club of Knightsbridge a very famous sports club of the 1800's,often frequented by nobility.
The windows of this Luxurious property in Knightbridge needed the services of a professional domestic window cleaner in knightsbridge.
The houses in Lennox Gardens are a mixture of gothic and baroque-in-style dating from the second half of the 19th century, and the central garden, which is surrounded by thick hedge and shrubs with ornamental garden has a very well-kept lawn.
The properties on the road are mostly 3 or 4 storeys with attics and basements. They have red bricks and gables.
Spick and Span window cleaners were required, as Spick & Span window cleaners provide a domestic window cleaner service in Knightbridge and Chelsea and are able to clean windows that are difficult to reach by using the latest window cleaning technology.
The windows of this Kinghtsbridge property were very dusty on the outside and probably had not been cleaned for many years, the reason is that they were located above a basement, which meant that average window cleaners who work in Knightbridge or domestic cleaners are unable to reach them, however Spick & Span are able to provide domestic window cleaning in Knightsbridge to suit all window types and window heights.
Spick & Span have telescopic window cleaner poles and brushes that sympathetically wash all period types of glass. The large telescopic poles can reach around 50ft without the need to access the inside of properties. This makes this type of equipment ideal for cleaning windows in Knightsbridge and Chelsea where many of the windows are 3 storeys high or higher.
The windows were cleaned inside with a chemical solution that cuts through grime and dirt. The windows were cleaned using a step ladder. Dust sheets were used to protect the carpets from water marks.
The client was very satisfied with the service and commented on how clean the windows looked afterwards.
Spick & Span are delighted to offer window cleaner services in Knightsbridge, Chelsea, Sloane Square, Belgravia, Fulham and Pimlico.