Today Spick & Span window cleaners went to clean windows in Chelsea SW3 as part of a bespoke Chelsea residential window cleaner service.
This very spacious and grand converted Chelsea property was set over 2 floors and had all windows cleaned inside and out by a professional Chelsea window cleaner.
Why were professional Chelsea window cleaners required?
The owner of the property had not had the windows of her Chelsea home cleaned for over a year and because of this the windows were extremely dirty and were obscuring natural light from entering into the home.
Many average window cleaners in Chelsea are not able to reach windows that are so high-up with ladders and many are not prepared to clean windows internally as well as externally. Also many window cleaners in the Chelsea area concentrate mainly on commercial window cleaning making window cleaners who carry out domestic window cleaning in Chelsea difficult to find.
Spick & Span window cleaners who are regularly contracted to perform window cleaner work in and around the Royal borough of Kensington and Chelsea felt extremely happy to tasked with the assignment and were praised on the window cleaning methods used as well as the attention to detail whilst cleaning the windows of this Chelsea home.
Spick & Span window cleaners use a very clever window cleaning contraption that is both portable and powerful. What this allows is for windows that were once out of range or 'uncleanable' because of health and safety concerns to now be cleaned using hi-tech window cleaning machinery, that allows for windows to cleaned with the use of ladders.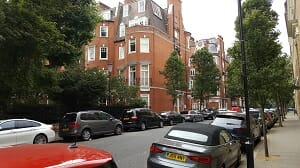 What type of windows were cleaned at the Chelsea property?
The windows of most Chelsea properties are Victorian wooden framed sashes, ocassionally we find Georgian glass and this property was no exception, there were also 4 sets of French doors that had Georgian style glass as well as Victorian sashes.
How excellent results are achieved in Chelsea residential window cleaning?
To clean the windows on the outside of this property only water that had a very high level of purity was used.
This is important as it means that the window cleaner can have complete confidence that the windows will dry completely spotless after window cleaning.
The windows on the inside of the property were cleaned using hot clean water and clean hand tools.
The chemical that is used is designed to clean windows in very hard water areas, such as Chelsea.
After all the windows had been cleaned, a lint free cloth was used for detailing.
Was any nice feedback received at the completion of the Chelsea window cleaner service?
Spick & Span window cleaners always aim to listen to their clients and incorporate any feedback they receive so as to continually improve the service.
At the end of this Job the client commented on the Chelsea residential window cleaning service, being impressed by the tools that had been used, the attention to detail and the huge difference that the window cleaning had made to the property.