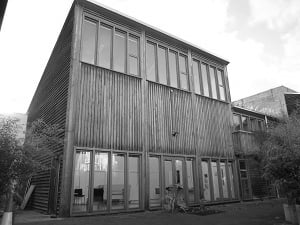 Today Spick and Span window cleaners were contracted to clean the windows of an Eco-friendly building currently used as an educational and garden centre in Kennington SE11.
The contemporary building built in 2005, opened by the HRH Prince of Wales in 2007  is set in  Kennington SE11within sight of the House of Commons and the sound of Big Ben .  The glass areas that required cleaning were within the sites training rooms, offices, reception, meeting rooms, toilets  and hall.
Different combinations of cleaning methods were used to get the best results, and flexibility was required of the window cleaner who worked ,as the the training rooms could only be cleaned  intermittently, whenever the students took a break. However Spick and Span window cleaners were more than happy to meet this very reasonable request.
After being shown around the building the first area to have the window's cleaned was a ground floor meeting room.
The meeting room had four, four-paned wooden casement windows as well as a glass door that was cleaned inside and out. The  method used was the traditional window cleaning method of a strip-washer and squeegee along with the use a window cleaner's scrim. After this attention moved to a large hall also situated on the ground floor level . The Hall had low-level and high-level glass that had become dusty because of recent floor polishing.The low-level glass consisted of approximately 17 8ft by 2ft glass panels and one glass door. The high level glass consisted of approximately 34 panes of varying sizes, the majority of these were cleaned using a 35 ft telescopic window cleaning pole and purified water making it into a very light and airy space once again.
It was noticed that on a number of the window panes of the hallway there was resin like substance that spotted the glass and so this was promptly scrapped from the glass without scratching the surface beneath.
Many of the first floor windows were cleaned externally by standing on a sturdy platform.
As the window cleaner walked around the building through the gardens to access the windows at the back of window care was taken to keep to the pathed areas and high – and low-level glass was thoroughly scrubbed and the rinsed using the purified water window cleaning machine.
The reception area windows were noticeably dirty due to it being located so closely to the garden, and also smeary, these were thoroughly scrubbed with a window cleaners strip-washer and squeegee afterwards to be left  smear free.
After completing the work the facilities manager who obviously was impressed with the results remarked that they looked two hundred percent better than they had looked before.