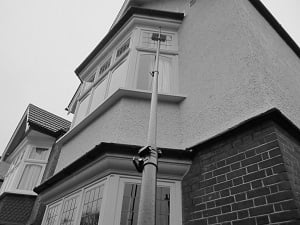 Today Spick and Span window cleaners cleaned a one bedroom flat in Anerley Park, Crystal Palace, SE20. The glass and windows that were cleaned were of various shapes and sizes located in and around the raised ground floor flat in Crystal Palace. One window was in the bedroom -this was a  standard size sash which the client only needed to be cleaned outside. The second window was also  an outside only clean, but this was  a leaded  casement window. The third to  clean was a set of large French doors that lead out onto a balcony, this needed cleaning outside and the top two panes needed cleaning  inside as they were out of the reach of the house holder.The equipment used to carry-out the work was an extension ladder, to clean the higher window panes, and a water fed pole to clean the outside of the leaded windows and sash bedroom window.
The Client had owned the property for two years and had never had the windows cleaned , so the windows were grimy , and hadlots of finger marks on the lower panes, left by her two-year old. There were also water mineral deposits, left by the rain, which needed removing.
Permission was sought  from neighbours to access their side return to clean the leaded casement windows at the side of the clients  property, as the angle was very steep to reach from below, after this was granted the window cleaning trolley was put into place along with the purified water, the pole was then extended and placed safely against the leaded glass, before the machine was switched on. Once started the purified water quickly attracted the dirt that had built overtime on the glass washing it down the window pane and off the glass.  After completing this the trolley was wheeled to the back garden where the bedroom sash window was and cleaning commenced there, after all windows below the point of cleaning were closed to prevent water ingress, this was cleaned.The set of french doors were cleaned with detergent and water, along with traditional window cleaners tools. The deposits of limescale and other minerals that had left noticeable spots the glass were also removed by the window cleaner using    special cleaning chemical applied with a cloth.
After the window cleaner had completed all the work, which took around an hour the homeowner commented on the huge difference that had been made and how glad she now was to have a view of her garden again.
The window cleaner who was responsible for the cleaning was delighted, upon returning home to learn that this very satisfied client had left an email, stating how thrilled she was with her experiences with Spick and Span window cleaning, and her desire to recommed our services as window cleaners to others in Crystal Palace.