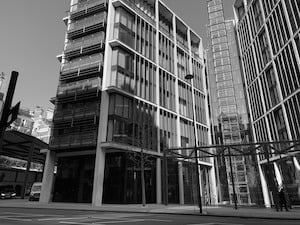 Today Spick & Span window cleaners went to clean the windows at a location that has within it one of the most expensive flats in the country, this was  located in: One Hyde Park, a major residential development located in London Knightsbridge, SW1.
This super structure of a building located next to Hyde Park, is one many exclusive locations that we often find ourselves cleaning in.
Spick & Span window cleaners performed this at the request property managers working on behalf of this client. We carried out all the work with the utmost  discretion and in compliance with all protocol placed upon us by the One Hyde Park security.
This fifth floor at One Hyde Park, consistent with the rest of the residential building, is completely bounded in glass, much of which is maintained by the  in-house window cleaners, however it can become necessary to find windows who are able to clean the balconies of One Hyde Park, as these areas can be difficult to reach from window cleaning cradles.
We cleaned the windows of the balcony of the apartment in One Hyde Park both inside and outside. These large glass doors were remote controlled and allowed us access outside. From outside the property we were able to get close enough the window to scrub and aggravate the build up of dirt on the glass, which had been left from the London air.
It was clear that attempts had been made to clean the floor-to -ceiling glass of the doors before. These attempts however had been unsuccessful and had in fact made the windows look worse. They were thick with grease or detergent which had left stains. They also were very smeary.
We were able to rectify the work that had been done previously by using the correct solutions. We used telescopic poles, a applicator pad, squeegee, and cloths to remove stubborn marks.
The windows afterwards, looked spotless.