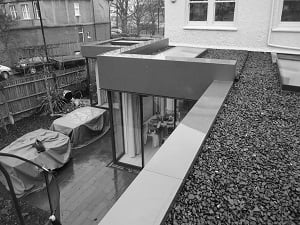 Today Spick & Span window cleaning went down to East Dulwich and did exterior window cleaning of five bedroom Edwardian property that also has a very large glass kitchen extension as part of a regular six-weekly cleaning contract.
The client, who initially contacted Spick & Span via a local community forum in East Dulwich on a one-off basis, has since set up regular window cleaning to maintain the large glass kitchen extension exterior as well as the windows at the front of her Edwardian property.
After cleaning the leaded glass at the front and side of the house on the ground and first floor with a purified water method of cleaning, the large glass kitchen extension is cleaned. The large glass kitchen extension has approximately 14 large 2m by 1m panes and 5 glass roof light panels  that measure approximately 2m by 1m. all of which require cleaning. To make sure that the glass extension always looks at it's best the home owner has taken out a six-weekly cleaning schedule for the outside panes and a three to six-monthly clean for all the interior glass panels, this will be necessary because of the finger prints that the young children leave on the glass.
Spick and Span opt to clean these windows using traditional scrubbing and rinsing window cleaning methods, but have ensured that  large hand tools that suit large window panes are used. When accessing the roof to clean the roof lights above, care is taken, and it has been decided only to clean this part of the the kitchen extension either early, or late in the day, as the roof felt is set on bitumen  which melts and becomes unstable during times of extreme heat. When accessing the roof area leaves and other debris that hamper sunlight from entering the kitchen and office below are easily removed and glass panels are thoroughly  washed.
The large bi-fold kitchen doors and window panes that bound the extension are all cleaned from ground level with a very short extension pole.
It is always the aim of Spick and Span window cleaning to keep hassle to a minimum for all clients. For example during cleaning, maximum effort is made to prevent unnecessary disturbances,also if the visit of the window cleaner is during a busy time, whereby the homeowner has been unable to visit the cash machine an electronic invoice is sent and BACS payment is encouraged.