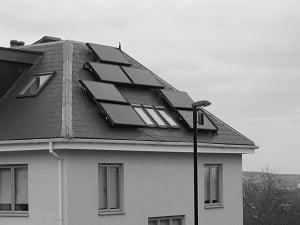 As you look around the landscape of East Dulwich it is noticeable that a number of properties in the area have on top of their roofs solar energy panels to harness the energy from the sun and to provide clean forms of energy.
Whilst good for the environment, solar panels prove a problem for home-lovers as within short amounts of  time they become sullied and dirty damaging the appearance of the homes that they dwell on .Due to the grime and high pollution levels and dust within the city, solar panels provide a big target for dirt of all sorts to lock onto, but not only are they  hazardous to clean, working  off of a ladder, because of their precarious positions, but they also require very thorough and intense scrubbing, which is both time and labour intensive.
Spick and Span window cleaners, while primarily working as window cleaners are able to reach high into the air with their window cleaning equipment, which is equally effective on solar energy panels. The window cleaners use special abrasive brushes on the end of carbon fibre extension poles that can reach solar panels on roofs , giving them the clean that they need so as to maximise their efficiency in converting the suns rays into energy.
Few window cleaners around the East Dulwich area have branched into this avenue of cleaning, but Spick and Span window cleaners have widened out the cleaning services that they offer to keep pace with the current East Dulwich demands.In doing so Spick and Span window cleaning have as their objective the providing of  a good and not too expensive window cleaning service but also add on  services such as solar panel cleaning which are provided at very reasonable rates in the East Dulwich, Dulwich Village and other areas.
Using a very green method of cleaning , Spick and Span window cleaners can clean solar panels in East Dulwich without the use of harmful chemicals, Whether your solar panels are located at the front or back of your property Spick and Span window cleaners have cleaning styles that minimize water leakage and that can suit your needs. Adjustable extension poles allow us to reach panels placed at awkward angles and we can clean them on a one-off or scheduled basis.
If you would like to learn more about whether we can offer solar panel cleaning to you do not hesitate to get in contact so as to discuss your requirements.