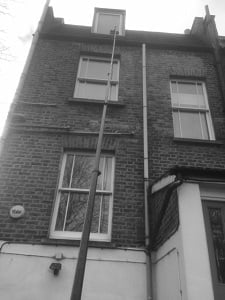 Today Spick & Span window cleaners went down to Battersea to clean the windows of a semi-detached 4 bedroom Victorian property, in a tree lined street in Battersea, SW11, which had Sash windows, French doors and Velux windows. The windows of this Battersea property hadn't been cleaned in the last 3 years,which was the time when it came into the current owners possession.
Spick & Span arrived on site 5 minutes early, just in time to meet the householder before she left to go to work.
The window cleaner was not previously informed that he would be left unattended during the work, but no doubt because of having heard of positive comments from others who have taken out the service, the homeowner, who although was a first-time client, felt comfortable enough to leave the window cleaner unattended with a set of house keys and the code for alarm. Before leaving the property she instructed the window cleaner how to set the alarm which he did before he left.
In all the window cleaning took around 5 hours to complete. Spick & Span window cleaners were hired for the day to clean all the windows on the inside and outside. The client was particularly eager to have the velux windows in the dormer extention cleaned as they were very grubby indeed.
Spick & Span window cleaners started to clean the windows from outside the house first. We used a 35ft carbon fibre pole to reach the third storey windows of the dormer. All the external windows of the house were thoroughly scrubbed and then rinsed with water that has had all it's contaminants removed. This water which has been purified through reverse osmosis attracts dirt like a magnet. It was necessarry that all external windows were thoroughly cleaned more than once in some places because there was a considerable amount of dust on the windows which was the remnants of past building work.
While cleaning within the property great care was taken to avoid spilling any water. This was especially important here because all of the carpets within the home were a light beige colour and so would've shown up any water marks that had spilled. As a precautionary measure, and to prevent the carpets from getting soiled the window cleaner on location used dust sheets below any areas of cleaning. Tall windows were accessed and cleaned from a large step ladder which was carefully transported around the home.
When the homeowner returned home from work she was delighted to see the transformation that the window cleaning had made. She was particular impressed that her trust Spick & Span window cleaner had not been misplaced and the top windows of her home were shiny and clean. She Battersea window cleaner service that she had received.
She also promised to contact us again.