Location
Today Spick & Span window cleaners went down to Kensington Gore  to clean the windows of a 7th floor flat, set within a Mansion block in Kensington SW7. The Albert Hall Mansions were designed by architects R.Norman Shaw with Driver and Rew between the years of 1877-81 are located near to the Albert Hall and Hyde Park. The apartment that Spick & Span window cleaners attended to – had great views of both.
[gmap]Albert Mansions, Kensington Gore, London, SW7 2AG[/gmap]
Eye for Detail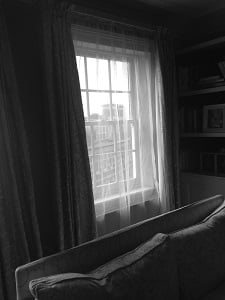 The owner of this luxurious flat in Kensington was in desperate need of specialised and meticulous window cleaning. They required that great care  be taken around the property, which housed numerous, and very expensive antiques. Spick & Span window cleaners respected this need by using dust sheets in all the work areas, and by using over-shoe covers; Spick & Span window cleaners took great care around the furnishings of this property. Windows were also opened with care.
Rising To the Challenges
Each window cleaning job  whether it be in SW7 or another area of London presents its own unique and individual challenges, and window cleaning the windows of this property in South Kensington proved to be no exception, however with the many years of window cleaning experience that Spick & Span have gained; challenges can usually be met successfully.
The main difficulty of this window cleaner job in Kensington SW7 was that because of the height of the property, all external windows could only be cleaned and accessed from inside the property, which in this case wasn't too difficult, as all the sash windows opened without any problems.
Another thing that made this job quite labour intensive was that the 18 sash windows that were all cleaned on the outside were multi-paned and therefore once the windows had all been cleaned with a window cleaners applicator mop and squeegee, all the windows needed to be rubbed with a scrim.
Wecomed Recognition
The end results of this window cleaning in Kensington gore were very pleasing, because the windows were noticeably cleaner, and the home owner was very satisfied with the results of cleaning, and the care and attention that was taken. So much so, that they promised to contact Spick & Span window cleaners  to come and clean the windows of their kensington flat in a couple of months time, when it is expected that the windows will again need cleaning.