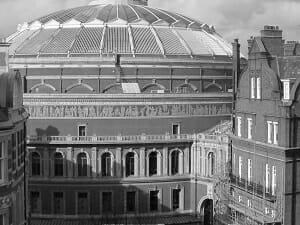 Today Spick & Span window cleaners went down to  window clean the windows of a 5 bedroom property in South Kensington as part of an ongoing contract there. The flat that Spick & Span window cleaners cleaned is in Albert Hall Mansions, located near to the Royal Albert Hall and Exhibition Road in London's South Kensington. When arriving at this property Spick & Span window cleaners were greeted by a concierge, before taking an escalator up to the 7th floor to begin the window cleaning. Whilst Spick & Span window cleaners cleaned the windows of this 7th floor flat in Kensington they enjoyed great views of the Royal Albert and other iconic buildings in and around the city of London.
[gmap]Exhibition Road, London, [/gmap]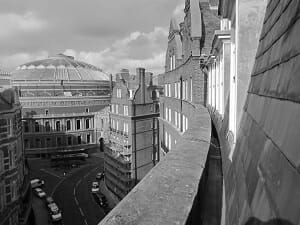 This window cleaning client requires that great care  be taken around the property when window cleaning in South Kensington  as the property houses numerous antiques, also because the client's busy schedule the window cleaner also has to work quickly. Spick & Span window cleaners provide for this need, by providing meticulous window cleaning and  by using over-shoe covers. Spick & Span window cleaners are also very careful around the furnishings of this property each time they clean the windows at this location. As the windows need to cleaned on the outside all the sash windows are also opened with extreme care.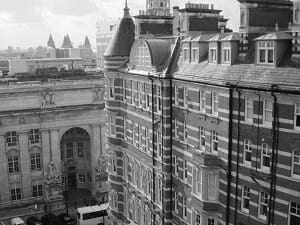 Each window cleaner job whether it be in South Kensington or in other locations around the area of Kensington and Chelsea presents its own unique and individual challenges, and window cleaning the windows of this 7th floor property in South Kensington prove to be no exception, however with the many years of window cleaning experience that Spick & Span have gained; challenges can usually be met successfully. The main difficulty of this window cleaner job in South Kensington is in  the height of the property, all external windows could only be cleaned and accessed from inside the property, which in this case wasn't too difficult, as all the sash windows opened without any problems. Another thing that made this job quite labour intensive was that the 18 Georgian sash windows that were all cleaned on the outside were multi-paned.
All the windows were washed using traditional window cleaner methods and micro-fibre cloths, which are very good for removing stubborn dirt.