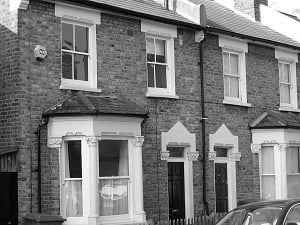 Today Spick & Span window cleaners  cleaned the windows of  a three bedroom one bathroom Victorian mid terrace home, local to their area in  Camberwell SE5. Spick & Span window cleaners , local to Camberwell took just a few minutes to arrive at the house from where they are based in Camberwell where they were met by a young couple.
The young family who had just recently moved into the period property in Camberwell  SE5 were very desperate for a window cleaner, and for all the windows of the house be cleaned internally and externally. The windows of their new home had been badly neglected  by the previous occupants, who rarely if ever had their windows cleaned, and so they required professional window cleaners to come down to the house in Camberwell to give them a very thorough and rigorous cleaning.
The homeowners had had recent renovation and building work  carried out at the property and because of this there was a lot of thick dust on the windows, and also paint marks which needed scraping off, which was done without damaging the glass.The windows were black and restricted needed light from entering inside the home, Spick & Span attended to this by using a strong cleaning detergent window cleaning scrubber and squeegee .
In addition to the house windows that were cleaned internally and externally, Spick & Span window cleaners also cleaned a sun room at the rear of the property that has green algae growing on top. This algae  was removed by Spick & Span window cleaner, who used a ladder to reach the lean-to roof and window cleaning scrubbers . The total amount of time spent at the job was about three hours. After completion of the work the homeowner said  "It's so nice to be able to see through the windows again!"