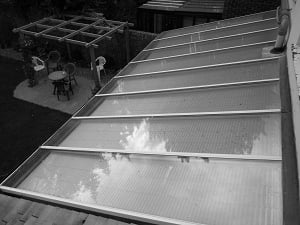 Today Spick and Span window cleaners were called out to Telegraph Hill SE14 to clean a three storey, five bedroom house with  a glass extension kitchen, and a  glass panel roof.
After showing Spick and Span around the property to make an assessment, the homeowner expressed doubt as to  whether  the glass panels in the roof could be cleaned or the windows above the glass kitchen extension could be accessed, but Spick and Span found ways to clean these to a satisfactory standard. Spick and Span window cleaners were able to clean the glass panel roof windows by working from a balcony and using an extension pole with an applicator pad attached, and then following the same action, but with a squeegee. The velux window in the loft conversion was also cleaned internally and externally.
The glass kitchen extension roof was cleaned externally, by leaning a ladder against a partition wall and vigorously scrubbing the panels from above .Afterwards the loosened dirt and excess water was directed away from the glazed panels by using a squeegee.The glass kitchen extension was cleaned internally using a step ladder, special care was taken to prevent dirty water from dripping onto the table and other furniture beneath,  this was accomplished by placing a waterproof sheet below.
All of the external windows at the front of the property were brushed clean using purified water run through a 30 ft. water-fed pole, special attention was given to areas  beneath the frames of the sash windows where dirt often collects.The front windows were cleaned on the insides using traditional window washing methods, this was especially helpful for the windows above the glass kitchen extension at the back of the property, which could not be reached with a water-fed pole or a ladder, instead they were cleaned  from inside the property, the sashes were positioned so that the windows could be cleaned from  a step ladder.
Some of the windows at the back of the property could not be opened , and so could not be cleaned on the outside from inside the property, as window locks prevented them from opening, therefore the water-fed pole was used to clean these outside.
All furniture was put back into their original positions after the work was completed and all tools used for the job were gathered before payment was collected .After asking the householder if she was happy with the results, she said that she was very satisfied .