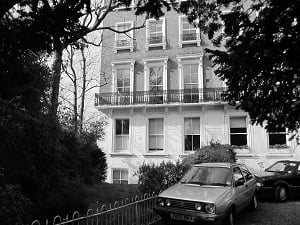 Today Spick & Span window cleaners, who cover the Clapham area with their window cleaning services, went to SW4 to clean the external sides of  some windows  of a one bedroom flat on the first floor of a building in Clapham.This one bedroom flat was set in lovely surroundings over looking Clapham Common.
The reason why Spick & Span window cleaners were chosen, over their competitors to come down and clean these windows, was that Spick & Span  were able to respond to this window cleaning job at short notice. The homeowner required window cleaning in her property in Clapham within the week as she works during the day and the only way for the window cleaning work to be done was if Spick & Span window cleaners could meet with the builders and cleaners on site . To help out this desperate client, Spick & Span window cleaners who operate from just a few miles from SW4. were able to respond very quickly to this window cleaning request, and came one day after the window cleaning booking was made.
When Spick & Span window cleaners arrived on site an initial inspection was made.
The windows were mainly dusty, which was probably due to recent carpentry work and the busy road to the front of the property.The windows that required cleaning were seven in total. Three could only be accessed from a balcony and three had to be accessed from a road at the side of the flat. The window glazing type were Sash window three of which had wooden glazing panels containing multiple panes. The windows by the road were large pane sash window approximately 3m. in height.
In carrying out this window cleaning job the tools that were used were, one step ladder a dust sheet , a bucket of water and window cleaning detergent a hand held window cleaning scrubber and squeegee, a window cleaners scrim cloth, the window cleaner also used overshoes. When working from the road, the tools that were used were, a five section carbon fibre extension pole and brush a portable pump system and a barrel of purified water.
Spick & Span window cleaners took approximately one hour in cleaning all the windows of this property in Clapham and the cleaning results gave this property the finishing touch that it needed after it's recent renovation work. The windows looked sparkling!